Canada Through the Brush of Kathleen Gillespie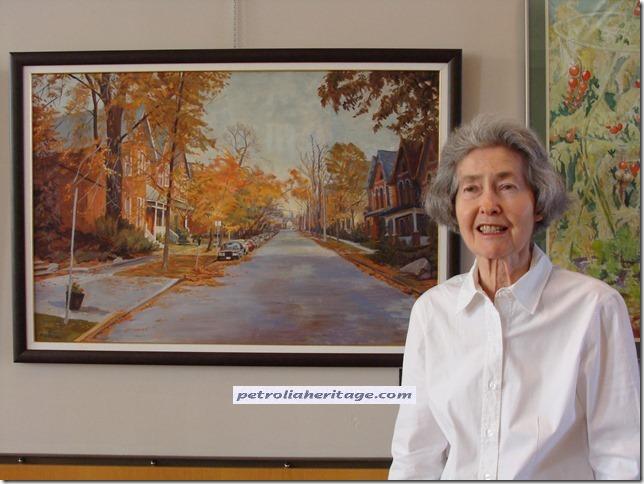 Thanks to Roy Sager for submitting this pic of Kathleen. She is shown at a past showing of her work with a painting of a Toronto street that someone beat me at buying.

A Silent Auction
OPENING FRIDAY MAY 8th - 7:00 - 8:30 pm ALL WELCOME
We are honoured to show the eclectic art of longtime Petrolian Kathleen at Victoria Hall, Petrolia from May 1- 29, 2015. A silent auction of Kathleen's work will also take place during this time.
Gillespie was educated in Petrolia and Toronto and studied art in the 1950s at St. Martin's School of Art in London, England.
After graduation Kathleen travelled with a friend to Europe and worked for two years as a stenographer for Cobra Wood, a company that sold a special treatment for wood. One of her jobs was to draw a cross section of wood to show what the wood would look like with the treatment and without.
On returning to Canada she worked in Toronto as a legal secretary for the International Law Firm Osler Hoskin and Harcourt until her retirement. Kathleen took night classes in drawing and painting at the Ontario College of Art in Toronto and spent two summers at the Banff School of Art. She also attended training at the Doon School of Fine Art in Kitchener.
Kathleen travelled extensively through Canada spending time in each province where she enjoyed attending art classes and browsing in art galleries, museums and book stores. Many of her paintings are from time spent on the east coast, Northern Ontario and Victoria BC where she spent time with relatives. She prefers working in oil but finds watercolour more convenient.
Kathleen's work entitled "Flats in Autumn" received honourable mention at the first Juried Art Show held by the Petrolia Art Advisory Committee in 2013.

See Kathleen's Petrolia paintings on the Gillespie page.




.
.
.